"Spring is the time of plans and projects."
– Leo Tolstoy
Project Feature: Mane Inc., Water Damage Cleanup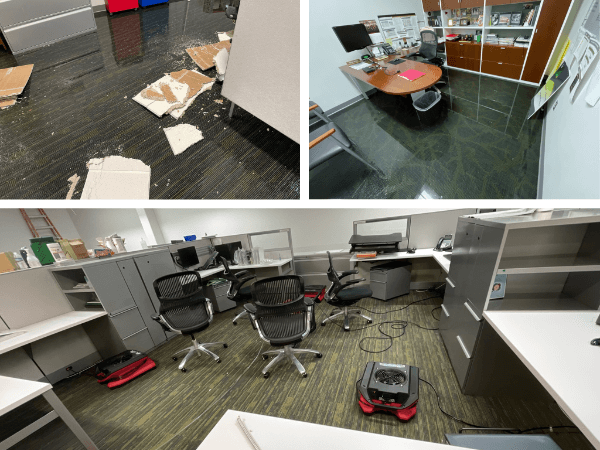 On December 26, 2022, at the early hour of 4 am, a Building Management Partners (BMP) manager received an unexpected call. A broken pipe had caused havoc in a lab area. Mane Inc., shared that a frozen filter had fractured, resulting in uncontrolled flooding that persisted from 9:30 pm on December 25th until approximately 3 am the following day. A staggering estimate suggests that an astounding 3,000-4,000 gallons of water had been unleashed.

Without wasting any time, the BMP team sprang into action, arriving promptly at 5:00 am to quell the flow of water and take charge of the situation. Their swift response included orchestrating a cohesive team to tackle the emergency. By mid-morning, BMP began the arduous task of extracting the water and diligently removing the damaged ceiling and walls.

The next day, BMP diligently returned to the scene to ensure that the deployed dehumidifiers and fans were carrying out their duties. Shortly thereafter, the team swiftly replaced the compromised ceiling tiles and drywall, leaving no trace of the incident behind.

Building Management Partners provided Emergency Repair, Construction & Renovation, Facility Maintenance, and Budgeting, Planning, and Assessments services for Mane Inc., in Lebanon, OH.
---
Service Feature: Emergency Repair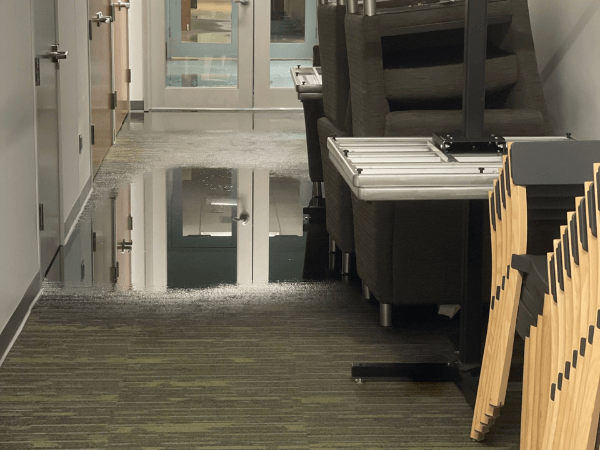 Prepared for the Unexpected!
At Building Management Partners (BMP), we're here for you when emergencies strike, day or night. In the world of Real Estate, emergencies are inevitable. From flooding and HVAC repairs to leaks, storm damage, and more, BMP offers comprehensive emergency services to keep your facility operational with minimal downtime.
Trust our dedicated team to swiftly respond and provide effective solutions, ensuring your peace of mind in times of crisis. Stay prepared with BMP's reliable Emergency Repair services and face unforeseen challenges with confidence.
Learn more about our Emergency Repair services here.
---
Career Opportunities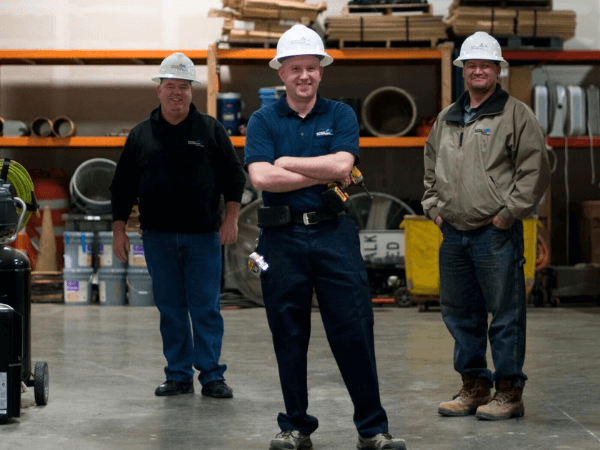 Join Building Management Partners (BMP) for an exceptional career experience. As a subsidiary of Paul Hemmer Company, BMP operates in Kentucky, Ohio, and Indiana, offering a range of dynamic and diverse projects. Regardless of your skill level, BMP provides hands-on work and training opportunities to enhance your expertise. Plus, all full-time positions come with valuable health care and retirement benefits.

Here are some of the current full-time career opportunities at Building Management Partners (BMP) in Hebron, KY:
Flooring Technician
Small Project Supervisor
Maintenance Technician
HVAC Journeyman
Service Technician
If you, or someone you know, is a professional looking for an excellent company culture and benefits, visit our website to apply online today!
---
Team Spotlight:  Mark Runyan

Meet Mark Runyan, our esteemed Maintenance Division Manager at Building Management Partners. ​​​​​With over 20 years of dedicated service, Mark has been instrumental in overseeing a team of 22 skilled technicians responsible for building maintenance and property management.
A graduate of Northern Kentucky University, Mark holds a technical degree in carpentry and interior design. His exceptional leadership ensures the proper care of all facilities under our management, including multiple commercial properties in the Greater Cincinnati region.
Mark's expertise and commitment make him an invaluable asset to our team.
Learn more about Mark and the BMP team here.